Special Notice from Marie's Sewing Center for July
Marie's Sewing Center has been working on several new and exciting ideas that we hope you will be as excited about as we are.
Don will be holding his computer class on Friday, July 18th at 10 am or Thursday, July 24th at 10 am. This is a review of what he did at the retreat for those that were not able to attend or need a refresher, cost is $10.00.
We will be introducing "
Learn to Sew
", this program is geared for children between the ages of 8 and 16. Each person will create a project, at the end of the program they will take their project and their sewing machine home! Yes that is correct, they will be sewing on their very own sewing machine (they will not know it until the end of the project, so mums the word). This way they not only learn how to sew, but also how to use
their
very own sewing machine. The cost for the class is all inclusive and will be $250.00. We are starting to setup this class now so if you might be interested let us know, we would love to discuss ideas and dates with each of you. We want to make sure that this program becomes the program of choice for all of our future sewers. Once all details are worked out we will send an updated email with class size and project/program specific information.
Don't forget about our Anita Goodesign class happening July 15th at 6:00 pm and July 16th at 10:00am. Called Christmas in July, you are bound to love the projects, attached is a picture of the three projects: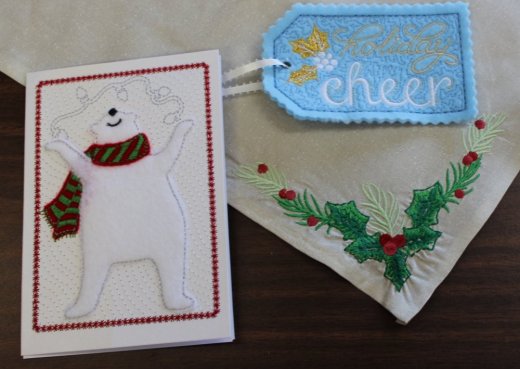 Cost is $10.00 and you can sign up by website, calling the store or in person. As always your $10.00 gets you the kit with the complete
lessons and instructions included. We hope to see you there, it will be a lot of fun
Also remember plans are being drawn up form our Fall Frolic taking place in November, more details will be coming out as more arrangements are finalized.
We have a Memory Craft 15000 with a nicely reduced price, unfortunately I can not list the price here. This machine does come with the iPad mini. Purchase of this machine also entitles you to a free DC 1050 light weight portable machine (just bring this email with you).
We have been steadily receiving our Silhouette supplies and now have a nice selection of items in stock, if you haven't been in lately stop in and take a look.
The Row by Row shop hop is still going strong. Stop out and see what it's all about!!!
There is lots of new FABRICS at the store!!!!!!!!!!!!!
Marie, Don and the Girls
Marie's Sewing Center
3610 Robinson Road
Lockport, NY 14094
(716) 434-2583
www.mariessewingcenter.com