Join us for this fun day long event as we explore new ways to add interest to your sewing creations. Work with our elite PFAFF Educator, Gina Hodges, to learn new techniques for adding texture on fabric by using a variety of feet to create eye-catching projects. Come spend the day with us and even make a project to take home with you!! Class is offered on Wednesday, July 26th from 10 to 4 in Eden Marie's. A second class will be offered on Thursday, July 27th from 10 to 4 in Lockport Marie's. Class is $25 and all supplies including sewing machines will be provided. You will really enjoy this workshop. The class fee will be returned to you after the
end
of the class on a purchase at the store on that day. Lunch is included.
Westalee Ruler Demo and Trunk Show. Join us in welcoming National Teacher: Pam Varner to Marie's Sewing Center. At our Lockport location on Monday, July 31st from 1 to 5. Pam will be showing a wonderful trunk show and will be doing a demo on the Westalee Rulers. These rulers are terrific for learning how to free motion machine quilt. There is a charge of $20 to attend and that fee will be given back to you at the
END
of the class on a purchase at the store on that day.
Westalee Event Hands on event: "RULERS ROCK SAMPLER SET BASICS" Yes you can free motion quilt with the Westalee Rulers. This hands on event will be held at the Lockport Best Western Hotel from 9am to 4pm on Tuesday, August 1st. The Best Western is on South Transit Road in Lockport. This will give us some extra room to spread out and learn these techniques from National Teacher, Pam Varner. We are limiting the class to 20 people. We have reserved the hotel and Pam for the following day, Wednesday, August 2nd if the first class is full. You must register and pay for you seat to guarantee your spot. As soon as we have 15 people on Tuesday, we will open up the registration and send out an email for the Wednesday. There is a supply list and you will need a Westalee ruler foot and templates. We also suggest an acrylic table if you do not have one. These will need to be ordered so sign up today and we will contact you the week of the 10th with the supply list and other information. Class fee is $79 and will include lunch.
The Row x Row shop hop is in full swing. We have an awesome row at each store. This is the full quilt and there are 8 shops participating in this unique quilt. We have all used the same greens, blues, and black to make this quilt go together into a work of art. Susan Rooney designed this for us. More details on our Facebook page or stop out to either store and get the information.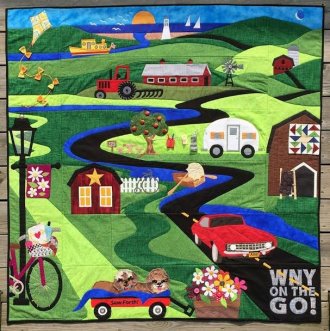 We are also doing the Row x Row JR. This is for kids. The kits are very cute and both stores have them. They would finish into a quilt, make a nice pillow, or a wall hanging. The first 5 kids that complete one of the kits will get a blue ribbon.
EDEN'S KITS
LOCKPORT'S KITS




Marie, Don, and the girls
Marie's Sewing Center
6310 Robinson Road
Lockport, NY 14094
(716)434-2583
AND
Marie's Sewing Center
8386 N Main Street
Eden, NY 14057
(716)992-4364