Skip Navigation
Website Accessibility
JANOME CONTINENTAL M8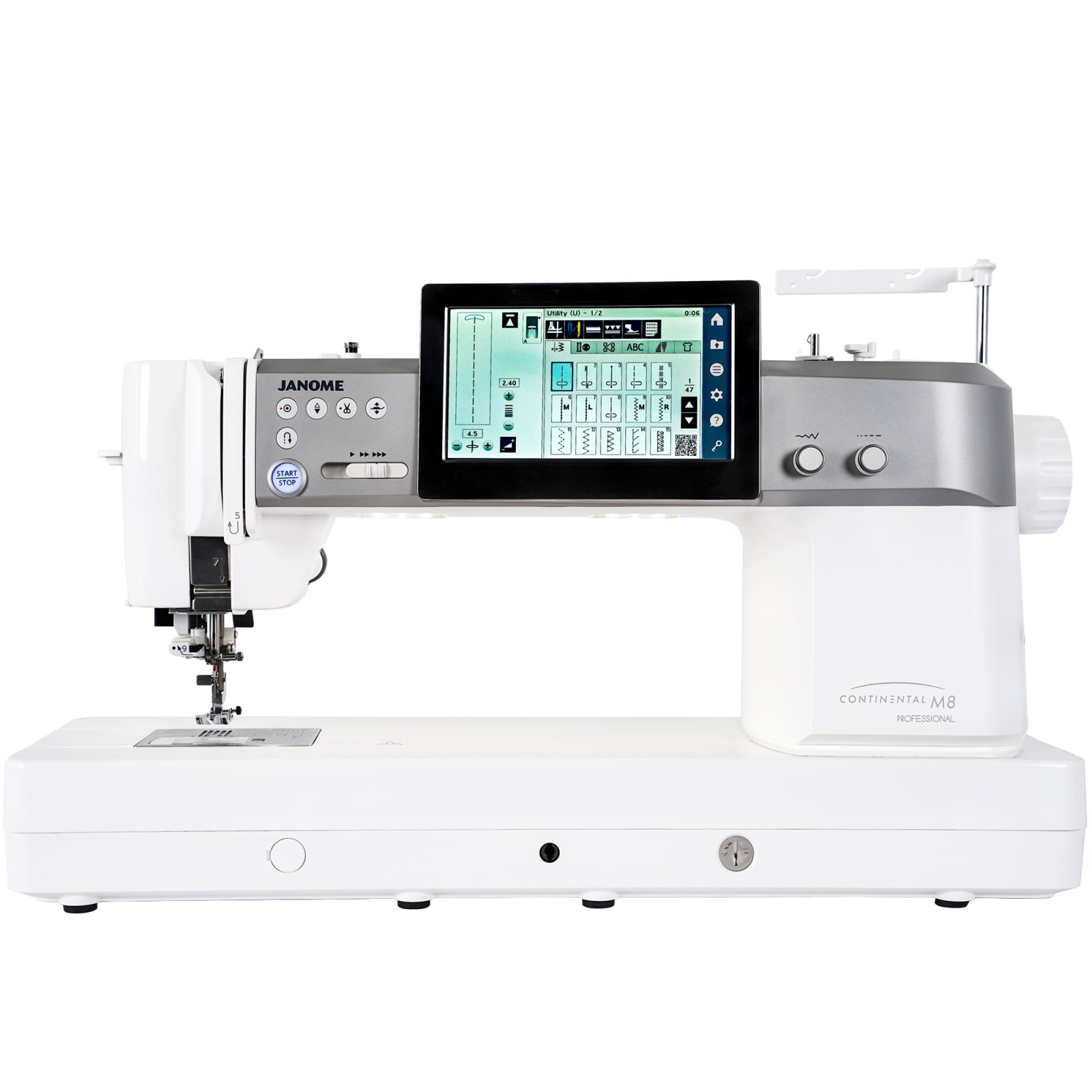 Call for special in-store pricing !
(716) 434-2583

COMING OCTOBER 2023

Description
Experience the sheer exhilaration of unleashing your creative spirit with the Janome Continental M8 Professional Sewing and Quilting Machine. This remarkable powerhouse is not like any other and will elevate your projects to new heights.
Prepare to be captivated by its unrivaled quilting capabilities. The built-in Accurate Stitch Regulator will guide your hand with absolute precision, ensuring flawlessly even stitches that breathe life into every intricate design. Feel the smooth, uninterrupted flow of fabric beneath your fingertips as the AcuFeed Flex Layered Fabric Feeding System glides effortlessly, granting you total control over the creation of your masterpieces.
But that's not all; the Janome Continental M8 is an unmatched advisor, a wise companion on your quilting journey. The Quilt Block Advisor will stand by you, offering expert guidance and illuminating the path to perfection. With its assistance, every quilt block will emerge as a breathtaking work of art, filled with emotion and soul.
And let's not forget the Hi-Definition Sewing Features that will take your breath away. With a staggering selection of 450 built-in stitches, each meticulously designed to ignite your imagination, you will be transported to a realm of limitless possibilities. The 9mm stitch width opens up a world of intricate detail, allowing you to unleash your creativity without restraint. Capable of a maximum sewing speed of 1300 stitches per minute, the Janome Continental M8 will effortlessly see each project to completion.
Witness the sheer power and efficiency of the 7-piece feed dog, ensuring flawless fabric control that energizes your creative process. It's as if the machine possesses a sixth sense, anticipating your every move and enabling you to express every creative thought.
Hi-Definition Quilting Features
A.S.R. (Accurate Stitch Regulator) Compatible
AcuFeed™ Flex Layered Fabric Feeding System
Professional HP needle plate, HP and HP2 feet
Streamlined profile for broader sewing field view
Stitch tapering function
Ruler work mode
Automatic presser foot lift
Quilt Block Advisor
Extension table with storage drawer included
Variable zig zag for free motion quilting
Floating mode for delicate fabrics
Cloth Guide included
17.81" All metal seamless flatbed
Adjustable knee lift
Hi-Definition Sewing Features
450 built-in stitches up to 9mm wide, including 3 fonts (block/script/broadway)
Maximum sewing speed: 1,300 SPM
Enhanced Superior needle threader
Thumbwheel by machine head to raise and lower the needle
12 Sensor buttonholes, 1 Automatic
Straight stitch needle plate with left needle position for 1/4" seam foot
Snap-on presser feet
7-piece feed dog
Sewing applications onscreen support
Technology & Engineering
AcuSpark2 App provides machine learning and support
Auto tension system
Auto-Power Off timer
Automatic one-touch needle plate conversion with 3 included plates
USB port Stitch Composer stitch creation software
Optical bobbin monitoring system
7" Color LCD Touchscreen
Features & Accessories
Full-intensity lighting system with 9 white LED lamps in 4 locations
Top loading full rotary hook bobbin system
Memorized needle up/down
Direct touch sewing adjust for Direct select stitch chart
Start/stop button
Speed control slider
Locking stitch button
Automatic thread cutter
Twin needle setting
Easy reverse button
Advanced plate markings
Auto-declutch bobbin winder
Independent bobbin winding motor
Upstanding Dual thread stand (vertical delivery)
Maximum stitch width: 9mm
Maximum stitch length: 5mm
Buttonhole foot with stabilizer plate for thick fabric
13.7" to the right of the needle from left needle position